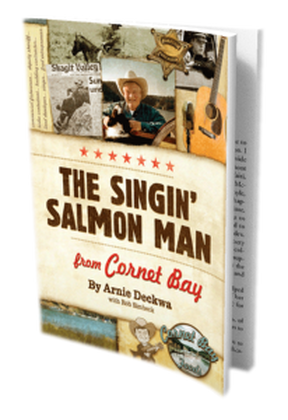 The Singin' Salmon Man
Who's the man behind the brand? Cornet Bay owner Arnie Deckwa has led an amazing life. From rodeo bull riding to hanging out with stars of the Grand Ole Opry, Arnie's master storytelling skills make The Singin' Salmon Man an enjoyable read.
This book tells the story of a true American original. Arnie Deckwa is "the first and only cowboy ever to ride into the history of Nashville's country music on smoked salmon." Born to a fishing family on Whidbey Island in Washington State, he was a commercial fisherman, a rodeo contestant, a deputy sheriff, a building contractor, and a land developer, among other things. But it was his moving to Nashville to pursue his musical dreams that brought together his twin passions – good music and good food. He arrived with a handful of contacts and a $1,500 cashier's check no one would cash.
Before long, though, Arnie was a backstage regular at the Grand Ole Opry, hanging around with Roy Acuff, Little Jimmy Dickens, Charlie Walker, and the Four Guys. He began bringing smoked salmon from back home, and soon the salmon and dips he made from it were an even bigger hit than his music. At the urging of his Opry friends, he began taking both into grocery stores.
Ten years later, he moved back home as the head of a booming business based on the best-smoked salmon and crab dips that ever tempted a palate. He had a growing line of products in the nation's largest grocery chain, a world of friends and supporters, and many great stories to tell.
They're all here, along with a few recipes and a lot of wisdom from a man who lives life to the fullest every time he gets out of bed in the morning.
Meet the Singin' Salmon Man, Arnie Deckwa.